Message of Commander of Royal Medical Services
"The world population have become more conscious on their health in the days we live than ever before. As a medical professional I am more concerned about the personal health of our people an proud of shouldering responsibilities of the Bahrain Defence Force Royal Medical Services (BDFRMS) leading an array of healthcare teams working diligently to tackle the challenges at the local and international levels and to provide our best effort for maintaining and strengthening our role as one of the major healthcare providers in the region".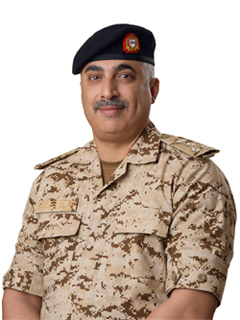 A Personal Message to the Patients:
"As a surgeon, my goal is to protect and improve your health by helping to eliminate painful (and often life-threatening) diseases and medical conditions that prevent you from fully enjoying life. I keep myself up-to-date on the latest technologies, and I keep my diagnostic and surgical skills current so that I can give you the best possible care. When it comes to choosing a course of treatment, I design a plan that is precisely right for you. This means that when I recommend treatment, you can trust me to use safe, effective, state-of-the-art technologies. I explain every procedure, answer your questions and help you understand your treatment options - surgical and non-surgical. You will always be involved in your own treatment planning and always have a choice. As my patient, your rights and choices will be honored. My commitment to you includes quality medical and surgical care, respect, honesty, accurate information and total integrity."
Maj. Gen. (Prof.) Khalid AL-Khalifa
MBBS, FRCS(I), FRCP(I)
Consultant General Surgeon and Senior Bariatric & Metabolic Laparoscopic Surgeon
Director of Royal Medical Services
BAHRAIN DEFENCE FORCE